Lapford Voluntary Car Association (LVCA)
Lapford Voluntary Car Aid (LVCA) is a registered charity, governed by a very small committee, with a team of 12 volunteer drivers on its books. We cover Lapford and Nymet Rowland parishes.
Passengers pay simple fares for trips to the hospital, a doctor or a dentist. £5 return to Crediton, Bow, Chulmleigh or Winkleigh, £3 to Morchard Bishop.
We will also collect medication from pharmacies, deliver samples and carry out any other medical-related journeys.
To call to arrange a booking contact Grace Hill on 01363 83178. LVCA expect at least 2 working days notice for a booking. For more information please click here.
Crediton and District Community Transport Association
The Crediton voluntary car scheme is for helping people get out and about. Telephone 01363 773303 or click here for more information.
Torridge Community Transport Association Ltd
71a High Street, Bideford, EX39 2AA.
Telephone: 01237 423232.
Opening Hours: Monday to Friday 9.30-12.30.
Charges: 40p per mile (including dead mileage).
Notice required: Minimum 48 hours.
Additional information: Escorts may travel if necessary. Patients must have no method of transport.
South Molton & District Voluntary Bureau
1 East Street, South Molton, EX36 3HR.
Telephone: 01769 573167.
Opening Hours: Office open Wednesday afternoons between 14.00-16.00.
(Answerphone outside these hours).
Charges: 35p per passenger mile.
Notice required: As much notice as possible.
Additional information: Escorts may travel at no extra cost.
Age Concern Barnstaple & District
1 Litchdon Street, Barnstaple, EX32 8ND.
Telephone: 01271 324488.
Opening Hours: Monday- Friday 9.00-17.00.
Charges: Within 5 mile no charge, over 5 miles 38p per mile.
Notice required: Minimum of 78 hours. (Subject to volunteer availability).
Additional information: Escorts may travel at no extra cost. Do not provide long journeys. Must be elderly.
Okehampton District Community Transport Group
If you live in Okehampton or the surrounding area you can travel with ease from your own front door by using the Okehampton Ring & Ride or Community Car Service. It is easy to use and will give you the freedom to go shopping, visit your doctor or dentist or even just meet your friends.
We would like to help everyone to access healthcare and social events, particularly those rurally isolated. Perhaps you would like to visit the cinema in Okehampton or attend swimming or exercise sessions. Please speak to us about any other requirements and we will do our best to provide transport. For more information telephone 01837 55000 Monday - Friday or click here for our website
The latest Okehampton District Community Transport Group Newsletter is available below:
Okehampton District Community Transport Group Newsletter 73.doc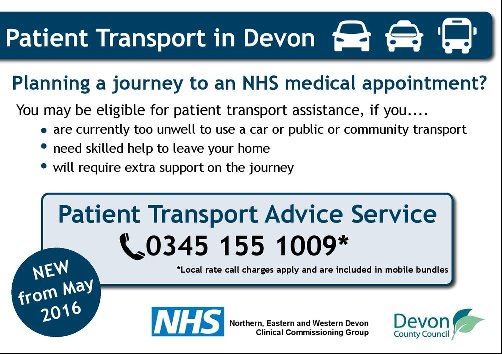 North Devon Cancer Care Centre Trust